eLearning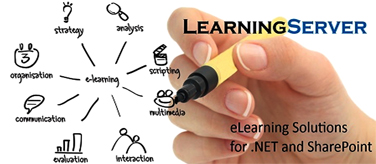 LearningServer is a highly flexible and customizable Learning Management System. With a variety of licensing/implementation options, support for numerous languages, and the scalability of the Microsoft .NET environment, LearningServer is a perfect fit for organizations of any size. The beauty of LearningServer lies in its modular feature-set and the familiar Microsoft Office-like look/feel. This provides a shallow learning curve and eliminates unnecessary distractions – maximizing users' time participating in or managing learning. LearningServer is deployable in Microsoft SharePoint learning management system, further increasing adoption and familiarity for users.
Standard Features
Out of the box, LearningServer meets and exceeds all of the features you would expect to see in a Learning Management System – course (SCORM/AICC), event (classroom/online), user, and enrollment management, automated email alerts, reports, gradebooks, and more. When deployed in Microsoft SharePoint learning management system, numerous LearningServer web parts can be imported into your SharePoint sites/pages.
Extensibility
"Collections" provide your organization with the opportunity to extend the capabilities of LearningServer and your 3rd-party courses on an "as-needed" basis. Each of the four Collections offer a variety of incremental functionality such as Threaded Discussion/Chat (Collaboration), Course Assembler/Exams/Surveys (Content Management), Job Grouping (Career Development), and eCommerce/multi-site management (Enhanced Management). In addition to the Collections, functionality extensions such as Enhanced Email Alerts, Custom Report Management, and Web Service packs can be purchased individually.
Implementation/Integration/Technologies
LearningServer can be installed and fully functional in a matter of hours via an automated installation process. Built on Microsoft .NET and optimized for SQL Server and Windows Server, LearningServer can be deployed on various server setups to meet your organization's user-volume requirements. Active Directory Authentication, Web Service APIs, XML Bulk Load, and the use of Router (external authentication into LearningServer) provide the tools to integrate with 3rd-party applications.
USA

21 Southwest Cutoff Road,
Northborough,
MA 01532.

+1 (508) 393-9180

info@thebostongroup.com

HYDERABAD,INDIA

Kanaka Durga Mansion,
Plot 52 -53, 5th Phase KPHB Colony ,
HYDERABAD - 500072.

+91-40-23052519

info@thebostongroup.com

SINGAPORE

#01-07, Hudson Techno Centre 16,
New Industrial Road,
SINGAPORE - 536204.

+65 6372 2611 - 2612

sghr@thebostongroup.com

Copyright © 2023 The Boston Group. All Rights Reserved.