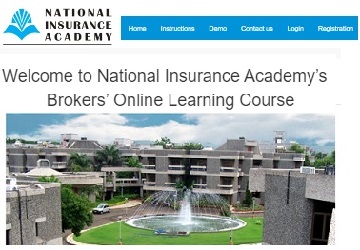 National Insurance Academy Chooses The Boston Group for 100 Hours of online course content development and SAAS model Learning management system for 5 years.
National Insurance Academy (NIA) is a premier institution devoted to equip the insurance industry with the best of talents. Its close association with the Insurance industry provides the 'real life' reference to its training, education, research and consultancy activities
National Insurance Academy Chooses The Boston Group for 100 Hours of Life and General Insurance online course content development and SAAS model Learning management system for 5 years.
Academy has introduced Online Training for licensing of Insurance Brokers . NIA welcome all prospective candidates to join the online classes and avail themselves of the advantage of a course, which is best in class, designed by the premier insurance learning institution in the country.
The candidates have to register for the Online training module by paying the necessary fees online. Once the amount is paid, system will be given training link, login id and password via their registered email, through which candidate have to complete the online training within 60 days of registration.
On successful completion of the course, the learner/user can generate the training completion certificate from NIA portal. After the completion of the course, the candidate has to appear and pass the Online Brokers examination conducted by National Insurance Academy with a minimum of 50% marks for PO & Broker Qualified Person / 35% marks for Authorised Verifier to get the Broker's certificate which is mandatory for procuring and soliciting business.
Candidate has to undergo mandatory 50 / 25 hours of Brokers' Training before enrolling for the examination. Candidate has to pay separately for registration of examination by paying stipulated fees thru e-learning portal.
As per IRDAI (Insurance Brokers) Regulations 2018 "candidate should take exam within one year from the end of the period of Training".
Dedicated The Boston Group support team will be helping National Insurance academy for this entire process end to end solution like registration course, online payment, tracking, Reports and course certification. We also supports Examination process registration, online payment and issuing final certification.
USA

21 Southwest Cutoff,
Northboro,
MA 01532.

+1 (508) 393-9180

info@thebostongroup.com

HYDERABAD,INDIA

Kanaka Durga Mansion,
Plot 52 -53, 5th Phase KPHB Colony ,
HYDERABAD - 500072.

+91-40-23052519

info@thebostongroup.com

SINGAPORE

#01-07, Hudson Techno Centre 16,
New Industrial Road,
SINGAPORE - 536204.

+65 6372 2611 - 2612

sghr@thebostongroup.com

Copyright © 2020 The Boston Group. All Rights Reserved.